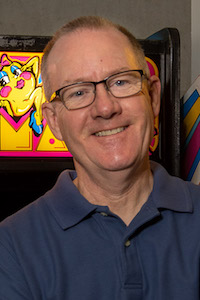 Steve Golson has been consulting and doing business as Trilobyte Systems since 1986. His areas of expertise include VLSI design, computer architecture and memory systems, and digital hardware design. He has extensive experience developing synthesis, static timing, and physical design methodologies (flows) for large ICs using a variety of design tools.
Mr. Golson also provides services as an expert witness, patent infringement analysis, and reverse engineering. He is an award-winning author and speaker. Mr. Golson provides communications training to US military customers.
From 1981 through 1985 Mr. Golson worked for General Computer of Cambridge, Mass. designing video games. He did the hardware design for GCC's arcade enhancement kits Super Missile Attack and Crazy Otto (which eventually became Midway's Ms. Pac-Man). He also worked on the Maria graphics chip for the Atari 7800 ProSystem home console, and contributed to various other arcade game projects at GCC including Atari's Food Fight.
Mr. Golson has a B.S. in Earth, Atmospheric and Planetary Sciences from MIT.
He enjoys photography (especially nature photography and astrophotography) and competitive rifle shooting. Steve is an Extra Class Amateur Radio Operator, callsign W1SEG. He is an avid historian of computing and long-time supporter of Computer History Museum and American Classic Arcade Museum. You may see Steve sweeping up paper airplanes at the annual Ig Nobel Prize Ceremony. He has recently retired from a long career as a chicken wrangler.